At the end of October 2019 was organised one special event we were lucky to participate on! Do you know which one it was? Have you been the lucky one to be there?
World's best woman chef Ana Roš with her Hiša Franko restraurant visited restaurant UFO watch.taste.groove in Bratislava.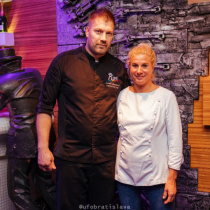 UFO is member of World Federation of Great Towers and it's iconic restaurant at the top of tower standing in the middle of bridge. Crazy right?
Ana brought her own ingredients from Slovenian mountains to let us feel the real taste of nature. Natural traditional approach to food fits perfectly with natural handcrafted tableware we have :-)
Take a look below to the menu and imagine the taste of this experience! For more moments scroll to small gallery below.
Lamb brain bigne
Parsley cracker with smoked pit cheese
Čompe s skuto
Cuttlefish lard
Game sashimi
Roasted cabbage, beans, pig's head sausage
Roebuck
Revolution of Kobariški štruklji
Chefcourse s.r.o., is exclusive importer and distributor of handmade ceramics Made In Japan. Chefcourse has been importing tableware from Japan since 2016 in partnership with tableware importer and distributor MIJ who is importing tableware and ceramics to Australia from Japan for over 30 years already.
You can sign in for our newsletter to get latest inspiration and news from us here.
Check out some fantastic foodstyling and plating on MIJ tableware here.