We decided to introduce to you step by step our customers who work day by day with MIJ Tableware - take inspiration, experiences and thoughts from those, who care about your dining experiences.
The first one will be the cook Ladislav Floreán, who uses our tableware almost from the beginning of our presence on Czech market.
Short introduction of Ladislav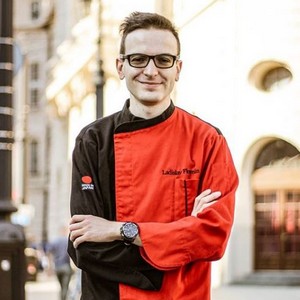 Name: Ladislav Floreán
Position: Chef de Cuisine
Workplace: private AirBnb Experience - Prague
Additional information: 24 y.o., with experiences from Michelin restaurants all over Europe. Ladislav Chef's Table is currently the most demanded and best rated Airbnb dining experience in Prague.
And what we talked about?
Ladislav, how did you get to MIJ tableware? Where did you hear about us? How long have you been using it?
I know your brand about 2 years, so since I came to Prague. I remember I was visiting shop Chefshop just to take a look on your plates, but it was over my limit in that time. I started conversation with girl working there in that time and she made me to buy 2 plates and gave me Michael's contact to call him about possible cooperation. My first plate was Craft White with high rim.
What were your selection criteria and what made you choose us?
hand made production - because cooking is work with hands mainly, I try to use mainly products made by hand, not by machine

each piece is unique, but still stackable, so it is original and practical at the same time

I like the contrast with food I cook, which is mainly Middle-Europe cuisine, with Japanese tableware

it attracts my guest on first sight, so it makes whole experience more interesting for them

I can tell the story of producing and all the way from Japan to Prague to my guests - this is what they like a lot too!
How do you like work with our tableware?
I like the variety of shapes, colors and surfaces - thank's to great offer a man can choose the correct plate for each recipe. I like to work with matt and very shiny surfaces, and this both you offer.
Do you have a favorite pattern or shape? Is the distinctive appearance of the platter an advantage (it highlights) or a disadvantage (it limits) in plating?
My favourite plate is 29cm Nin-Rin dinner plate, because it's color is neutral and matt. You can put very colorful, or very neutral food on it, and it still looks great.
It depends on Chef - some shapes or colors of plates can help even not very handy cooks to make the dish look great.
For what type of cook or kitchen is Made In Japan ceramics suitable?
I think it is the best for Chefs who care about the appearance of food and plating. First impression of food is visual, so it is 50% of success, if the dish looks great before tasting it. And it is great for managers or owners of restaurants, who are serious about the gastro-scene and want to offer higher level of dining for customers - unique, original, photogenic.
How satisfied are you with the quality of Made In Japan?
They are durable - washed them x-thousand times already and I still continue.
How do you think Made In Japan differs from competitors? What makes it better?
Large selection of shapes, colors, sizes and great price according to perfect quality. I also like friendly approach of employees of MIJ.
Do you think that CZ / SK gastroscene is at the West level in serving and plating? Are we already free enough of white plates?
I don't think so - we are not on West yet, but it starts to slowly changing. I can see in restaurants which offer high or higher level of dishes, that they care more about plating. And they are inspiration for smaller restaurants, which do not make such sophisticated dishes, but they try to make their work more attractive for customers. And for them is the best choice MIJ Tableware, as it looks very interesting, but its price is still low (in price/quality ratio).
Which of your dishes standed out best on the Made In Japan plate? Do you have photo of it?
Yes of course, take a look below :)
Chefcourse s.r.o., is exclusive importer and distributor of handmade ceramics Made In Japan. Chefcourse has been importing tableware from Japan since 2016 in partnership with tableware importer and distributor MIJ who is importing tableware and ceramics to Australia from Japan for over 30 years already.
You can sign in for our newsletter to get latest inspiration and news from us here.
Check out some fantastic foodstyling and plating on MIJ tableware here.